Providing the public with the most accurate and up to date information and qualified criminal defense attorney listings in their state to represent them.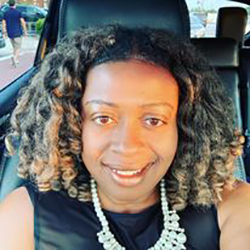 Charter Member
Artisha Gregg was born August 30t, 1978 on Long Island, NY. She graduated from North Babylon High School in 1996 as Vice President of her 12th grade class with honors. In addition, Artisha was a member of the National Honor Society for 4 years, and in 1995 she was chosen to represent the state of NY in Washington DC as a Future Lawyer of America.
Artisha graduated from high school in 1996. The following fall, she attended undergraduate school at the University of North Carolina-Charlotte (UNCC) where she majored in Criminal Justice and Communications with a concentration in Public Advocacy. At UNCC, she was selected from her freshman year to be an Emerging Leader. This leadership program focused on developing and shaping the skills of 50 elite students in the freshman class. In addition, during her freshman year, she became a member of her student government as a Student Council Hearing Panelist and determined disciplinary charges of students who were in violation of UNCC student code.
During Artisha's sophomore year, she pledged the Kappa Kappa Chapter of Alpha Kappa Alpha Sorority Inc., where she served as Vice President of her chapter. She also worked as a legal assistant in a law firm during her sophomore, junior and senior year.
In 2000, Artisha was accepted into several law schools and chose to attend Regent School of Law. During the summer of her first year of law school she interned with the 4th District United States Attorney's Office. As an intern she observed many federal criminal cases, including cases involving witness intimidation by the mob. As an intern with the US Attorney's Office, she found herself starting to empathize with victims. She had a passion to fight for vulnerable people who were being abused and mistreated by others.
Artisha graduated from law school in 2003. The following year she passed the bar and worked for 2 years at the Portsmouth Public Defender's Office. As a Public Defender, she saw some of the injustices in the criminal justice system when it came to indigent people. It was also in this job that she worked on the Juvenile and Domestic Relations Team where she represented indigent juveniles that were accused of crimes. She became attached to many of her clients, including one that she ended up mentoring. She took this client to church, and exposed the client to college events, and positive programs. She also enrolled this client into Commonwealth Challenge, where the client was able to get her GED, and learn a trade that helped her to get a job.
In 2006, she started working for the Newport News Commonwealth Attorney's Office, as a prosecutor on the Juvenile and Domestic Relations (JDR) Team. Artisha found that as a prosecutor she was in a better position to advocate for victims and gave deserving defendants an opportunity to minimize the consequences that they would have to endure due to their bad decisions.
While working in JDR court, she represented her office in the juvenile drug court program where she met a high school student that was engaging in drugs and getting into a lot of trouble. Once again Artisha had a profound impact on another young lady whom she mentored. Artisha attended several of the young lady's school functions. The young lady graduated from high school and went to college, where she majored in criminal justice. Artisha kept in contact with her and even encouraged the young lady to do an internship at the Commonwealth Attorney's Office. The young lady went on to graduate from college, law school and passed the Virginia Bar. Presently, this young lady is working as a Prosecutor in the Newport News Commonwealth Attorney's Office.
Artisha later worked in the Hampton Commonwealth Attorney's Office. She was the Gang, Drugs, and Guns prosecutor. In this position she successfully prosecuted many local gang members that had terrorized the community and committed violent crimes, including murder. After leaving the Hampton office, she went on to lead the JDR team as a Deputy in the Portsmouth Commonwealth Attorney's Office. In this position she worked with rape victims, children that were victims of violent crimes, and women that were in abusive relationships. She not only advocated for them, but she also helped them to find shelter and jobs.
Artisha is currently in private practice as a partner in the law firm of Rice & Gregg, PC. She handles criminal, and family law and works as a guardian ad litem. Her firm also does a lot of pro bono work, including giving free legal clinics to local churches, and community organizations to help people gain knowledge of their rights when dealing with the police.
Artisha has served on the executive board of the Peninsula Bar Association, The South Hampton Roads Bar, and the Portsmouth Bar. As the President of the Peninsula Bar Association, Artisha spear -headed a fundraiser that provided a scholarship for a minority student that was interested in becoming either a prosecutor or public defense attorney. Further her firm, Rice & Gregg recently gave a scholarship to a black law student currently enrolled at Regent.
Presently, Artisha is an active member of the Gamma Delta Omega Chapter of Alpha Kappa Alpha Sorority Inc., and an active partner of the Mount Lebanon Missionary Baptist Church.