Featured Criminal Defense Attorneys
Welcome to The National Academy of Criminal Defense Attorneys
The National Academy of Criminal Defense Attorneys is an organization devoted to recognizing the top criminal defense attorneys in the nation. With over a million attorneys in the United States, choosing the best lawyer is difficult. However, through a stringent selection process, the NACDA awards the best criminal defense attorneys in each state with our most prestigious honor of being named "TOP 10". The very few attorneys (less than 1%) that are good enough to make our list have demonstrated an extraordinary amount of knowledge, skill, experience, expertise and success in their practice of criminal defense.
The attorneys that make our list have to first be nominated by a licensed practicing attorney or one of our in-house research staff members. Second, our research staff verifies that they meet the minimum requirements of membership. Then they have to be one of 50 attorneys chosen to advance to the final selection stage by our processing committee, and then our Board of Governors officially selects the Top 10 in each state. We know it is a tough process but we wouldn't have it any other way.
Minimum Requirements
Must be licensed and in good standing in the state
Must be in private practice
Must have at least 5 years experience in criminal defense
Must devote a significant portion of practice to criminal defense
Must be nominated by a licensed attorney or one of our in-house research staff members
Additional Criteria
Client reviews
Peer reviews
Total length of time practicing criminal law
Case outcomes
Trial experience and outcomes
Published books or scholarly articles
Education
Formal criminal defense training
Criminal defense teaching experience
Legal awards
Does your attorney have our badge?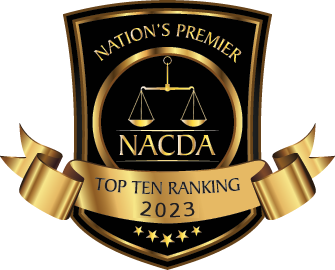 The NACDA badge identifies those attorneys that have earned the National Academy's most prestigious honor.
Contact Info
Address: 1629 K Street NW, Suite 300 Washington, DC 20006-1631
Phone: (202) 827-9985
Fax: (208) 275-4248
Email:info@national-academy.net