Providing the public with the most accurate and up to date information and qualified criminal defense attorney listings in their state to represent them.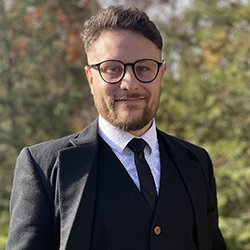 Domenic J. Pietropaolo
220 Grant Street, Suite 304
Pittsburgh, Pennsylvania
15219
412-407-3880
www.pietropaololaw.com
Charter Member
Prior to opening Pietropaolo Law Offices, LLC Mr. Pietropaolo served as an Assistant Public Defender in the Allegheny County Public Defender's Office. While representing Allegheny County's indigent population, Mr. Pietropaolo handled hundreds of cases ranging from beginning to end on a wide range of crimes including violent offenses, drug offenses, firearms offenses, sex offenses, domestic violence offenses, elder abuse offenses, animal cruelty offenses, financial offenses, and homicides.
Mr. Pietropaolo's work and experience as a public defender has shaped him into the attorney he is today. During nearly five years of service, Mr. Pietropaolo learned how to combine a fierce and persuasive approach to courtroom advocacy, while maintaining a high level of communication with clients. He also was able to benefit from his status as a public servant by receiving a scholarship to attend an advanced level trial college with the National Academy of Trial Attorneys. Handling so many cases in such a short time taught Mr. Pietropaolo how to build strong cases on even the most nuanced of clients, charges, and factual situations, how to best serve his clients' interests in and out of court, and how to manage a large caseload while still providing high quality representation to those who could otherwise not afford it.
Mr. Pietropaolo remained true to his Pittsburgh roots during his education having received his Juris Doctorate from Duquesne University of the Holy Spirit School of Law (now the Thomas R. Kline School of Law of Duquesne University). He received his Bachelors Degree in History with Minors in Political Science and Italian Language at the University of Pittsburgh, where he was also a Division I athlete with the Pitt Wrestling Team and was an Academic All-American.
In December 2021 Mr. Pietropaolo fulfilled a professional dream when he opened his own criminal defense firm, Pietropaolo Law Offices. As a member of the private defense bar, Mr. Pietropaolo now takes his skill and experience to fight for people all over western Pennsylvania. He continues to provide an unbending work ethic, unique talent for courtroom advocacy, and a compassionate team-oriented approach to criminal defense work with all his clients.
Mr. Pietropaolo was born and raised in the Pittsburgh area and continues to reside nearby with his wife and son.