Providing the public with the most accurate and up to date information and qualified criminal defense attorney listings in their state to represent them.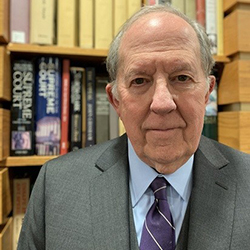 Charter Member
Garvin Isaacs is a trial lawyer in Oklahoma City. He received his Bachelor of Arts degree from Texas Christian University, and he earned his Juris Doctor degree from Oklahoma City University School of Law.
He is admitted to practice in Oklahoma and New Mexico. He has represented a wide range of clients in the areas of negligence, products liability against automobile manufactures and drug companies, breach of contract, medical malpractice, nursing home negligence, bad faith insurance, civil rights, conspiracy, and murder cases in both state and federal court.
After Garvin Isaacs retired by the Oklahoma Ethics Commission to prosecute Governor Frank Keating for using government transportation for political purposes, The Daily Oklahoman described Garvin Isaacs as a "disputatious defender of accused murders and worse." Garvin Isaacs' response to that was "that is positive identification."
Garvin Isaacs defended Gene Leroy Hart who was falsely accused of murdering three girl scouts in Mayes County, Oklahoma. After one of the longest murder trials in Oklahoma history, Gene Leroy Hart was acquitted.
In New Mexico Garvin Isaacs was hired to represent Michael Dennis Colby who was alleged to be the ringleader of the New Mexico prison riot in which 33 inmates were killed. After a lengthy trial, Colby was acquitted.
Garvin Isaacs believes that our government should remember how President Abraham Lincoln described it at the end of his Gettysburg address: "A government of the people, by the people, and for the people..."
Garvin Isaacs says that it is important that we return our government to "a government of the people, by the people, and for the people."