Providing the public with the most accurate and up to date information and qualified criminal defense attorney listings in their state to represent them.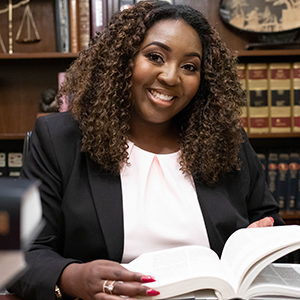 Charter Member
Mrs. McQueen received a Bachelor of Arts degree in Criminology and a Bachelor of Arts degree in Mass Communications while at the University of South Florida in Tampa, Florida. She then went on to receive her Paralegal Certificate from Hillsborough Community College before going to law school. While in law school, Mrs. McQueen won the school's Mock Trial competition and she became an Executive Board member. She also won the school's Moot Court competition and went on to compete statewide for her law school. Along with being an Executive Board member for Law Journal, she also was a founding Board member of the Phi Alpha Delta International Law Fraternity chapter at her school. Mrs. McQueen also had the unique opportunity to serve as a Governor for The Florida Bar Young Lawyers Division Law Student Division. While in her last year of law school, Mrs. McQueen gave birth to a beautiful baby girl and went on to serve as a Third Year Practice Extern at the Gwinnett County District Attorney's Office where she prepared cases for trial and presented cases before Superior Court judges, Juvenile Court judges, and grand jurors. Mrs. McQueen had the distinct privilege to be selected as The Valedictory Speaker of her law school, Western Michigan University Thomas M. Cooley Law School, where she graduated with a Juris Doctor degree with a concentration in Litigation.
Following graduation, she sat for the Georgia Bar Attorney's Exam and passed on her first attempt. She is a member of The Georgia Association of Criminal Defense Lawyers and is also on the court-appointed list for Gwinnett County and Brookhaven Municipal Court. Mrs. McQueen has represented clients in a multitude of criminal cases and zealously advocates for her clients both in and out of court. Her focus is Criminal Defense, Personal Injury, and Contract law. Mrs. McQueen does everything in her power to go the extra mile for those that she represents. No matter how big or how small the case is, every matter will be handled diligently, professionally, and with the utmost care ensuring that the client knows what's going on every step of the way. Mrs. McQueen prides herself in being readily available by phone and email and she looks forward to serving your legal needs.