Providing the public with the most accurate and up to date information and qualified criminal defense attorney listings in their state to represent them.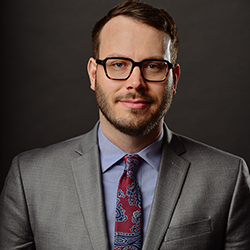 Charter Member
Matthew Meyer is a Milwaukee criminal defense attorney who dedicates his practice to defending the rights of those accused of violating the laws of the State of Wisconsin and the United States of America. Attorney Meyer is a skilled criminal trial lawyer who is not afraid to protect for your rights and present your side of the story.
Matthew Meyer earned his Bachelor of Arts from the University of Wisconsin-Madison in 2008 as a political science major. He earned his Juris Doctor from Marquette University Law School in 2012, where he was actively involved in the Marquette Volunteer Legal Clinic and the Marquette University Small Claims Mediation Clinic. During his final year of law school Mr. Meyer interned with the Wisconsin State Public Defender Trial Office.


Upon graduation from law school Mr. Meyer joined a small, Milwaukee-based criminal defense law firm. He quickly established his skill and dedication to criminal defense, but was limited by the opportunities presented at that firm. In 2014, Mr. Meyer left that office and founded Meyer Law Office. From the very beginning his focus was on the client and providing better representation to individuals facing criminal convictions. Eventually Meyer Law Office grew to capacity. In order to continue providing top notch criminal defense, Mr. Meyer brought an old colleague to the firm. Mr. Meyer knew Benjamin Van Severen from his time at Birdsall Law Offices and knew that Van Severen provided the kind of representation to clients that Mr. Meyer strove for. In December 2015 Meyer and Van Severen started Meyer Van Severen, S.C. In 2018, Meyer Van Severen grew to three attorneys with the addition of Matt Last.


Professional organizations
As part of his commitment to ensuring equal justice for all, Mr. Meyer is a member of the Wisconsin Association of Criminal Defense Lawyers, the National Association of Criminal Defense Lawyers, the National College for DUI Defense, the Milwaukee Bar Association, the Milwaukee Young Lawyers Association, the Eastern District of Wisconsin Bar Association, and the State Bar of Wisconsin. Mr. Meyer's involvement in these organizations allows him to more effectively work as a Milwaukee criminal defense attorney.
Attorney Meyer has received numerous awards throughout his career, including being named by the National Trial Lawyers to the Top 100 Trial Lawyers and Top 40 under 40 Trial Lawyers in Wisconsin. Meyer was most recently recognized by the American Institute of Criminal Law Attorneys as a top 10 Best Criminal Law Attorney for Client Satisfaction. Additionally, he was nominated by M Magazine as a Leading Lawyer in criminal defense. Super Lawyers has continually recognized Mr. Meyer as a "Rising Star" since 2015. Meyer maintains a 10/10 "superb" rating on avvo.com.
Finally, all criminal defense law firms associated with Attorney Meyer have been a success. Google quickly recognized Meyer Law Office and rated it 5.0/5.0. Meyer Van Severen, S.C. inherited the premium criminal defense rating and has built on it. Attorneys Meyer and Van Severen continue to promote the smart, hard-working, young criminal defense brand that is Meyer Van Severen, S.C.
Finally, Meyer Van Severen, S.C. is dedicated to you, the client.
Meyer Van Severen maintains the goal that Matt Meyer had from the very beginning: treat clients the right way, work hard, and achieve results. As the firm has grown, Mr. Meyer ensures these goals are maintained through every new staff member and attorney at the firm. Throughout our growth, we've maintained complete dedication to criminal defense. We don't take divorce cases, personal injury cases, or anything outside of cases involving criminal aspects. Maintaining our core principles allows Meyer Van Severen to provide premium representation to all of our clients.